Kyoto is an interesting city in Japan. One foot firmly planted in the past, it acts as a cultural anchor of Japan. The other foot steps forward to advance to a more modern Japan. In the coffee scene, Kyoto seems to be very rooted in the 1st wave of coffee shops. There are many shops that serve very flat, dark, and rich coffee. These types of coffee shops often have pancakes or other types of simple sweets available, and most of them often still have people smoking at their tables as they sip their coffee.
Goodman Coffee Kyoto is the exact opposite of all that. It is a thoroughly modern 3rd wave coffee shop that embraces new technology for brewing and roasting to create an absolutely amazing experience for a coffee cafe. Atsuomi Ito of Goodman Coffee also prepares delicious sweets at the cafe; for me, it is rare to have both good coffee and good cafe sweets at the same shop in Tokyo, or anywhere for that matter. I found that although coffee can be good, the cafe sweets are added as a necessity, but almost as an afterthought; the cakes, scones, and other pastries often lack in flavor or personality. But Goodman Coffee uses recipes inspired by Taiwanese pastries that simply excel all on their own. Ito could probably run a bakery just as easily as a coffee shop,but thankfully he decided to do both.
As you enter the spacious cafe, your eyes are immediately drawn to the Diedrich roaster – a serious powerhouse in the roasting community. Anyone with enough cash in hand can purchase a roaster, but to be able to select the beans, roast them well, and then brew the coffee takes some practice. You can rest assured that the coffees are all well roasted and brewed well, because Ito san has received independent certification by the Coffee Quality Institute.
The seating is varied and spaced nicely, with choices of a comfortable leather couch, several tables, or even counter style seating available. Large windows cover more than half the cafe and some outdoor seating really contribute to the spaciousness. As you make your way to the bar to order, you walk past all the brewing equipment, beans, and other paraphernalia you can buy. There is a good variety of brewing equipment available if you're interested in brewing at home. Ito san will happily answer any questions on how to use any of the items also.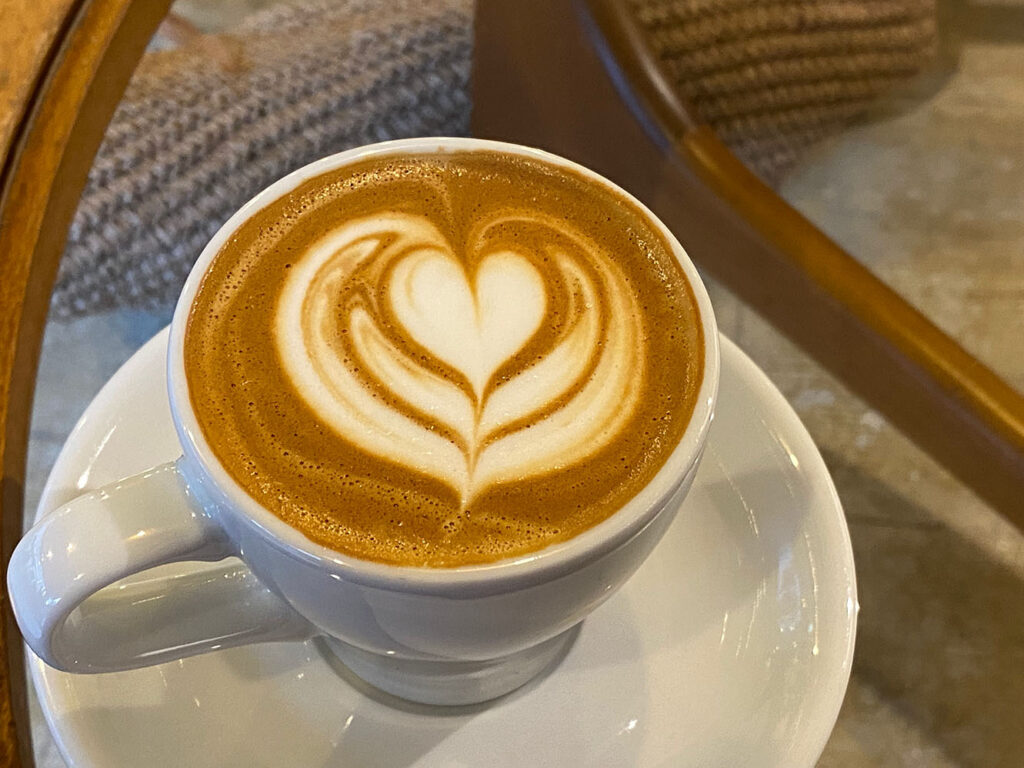 At the bar, you can choose from available freshly roasted coffees, prepared as pour over, cold brew, or espresso. In addition to all the great varietals from all over the world, Goodman Roaster offers Alishan coffee grown in Taiwan. These delicately flavored beans shine as a lightly roasted coffee, with almost tea-like intricacies in flavor, you can easily pick out the varied floral scents, fruit notes, and experience brilliant mouthfeel. Ito san carefully manipulates the brewing methods and recipes to give you a truly excellent cup of coffee, no matter which coffee you select.
To showcase some 3rd wave and maybe even 4th wave coffee technology, Goodman Roaster also offers cold brew coffee from a centrifugal cold brew machine. Cold brew, which is known for producing a smooth, and low acid profile coffee often takes 12 or more hours to brew properly. Goodman Roaster has a machine that spins cold water through the coffee grounds for a fast but efficient and cold extraction that has many of the same benefits of cold brew – rich flavor and low acidity, but this method only takes minutes, and adds a new brightness that is virtually impossible using traditional cold brew methods that normally would take hours.
Another popular addition to newer coffee shops is coffee soft serve ice cream. Most other shops that have coffee soft serve often just put a cheap dark roast flavor in the machine that gives a very generic coffee flavor. Goodman stands apart from the crowd by offering light roasted coffee flavors in their soft serve. To kick the flavor notch up even more, a light dusting of espresso powder covers the soft serve at Goodman Roaster. The fruit notes and brightness stand out in this display of coffee flavor. As a coffee and ice cream aficionado, I can safely say that Goodman Coffee Kyoto is where I've gotten the best coffee soft serve ice cream. Ever. Period.
As mentioned before, the baked treats here at Goodman Coffee were exceptionally good. The pineapple cakes were delicious, and pair very well with many of the coffees. These little treats have just the right amount of sweetness, and amazing texture. I had eaten at least 5 of them before I remembered that I needed to take a photo for this blog. What you see below is what I was able to leave just for a photo, and then it was quickly gobbled up afterwards. The espresso drinks were good too of course, But if you only have one coffee drink, I recommend forgoing the milk based drinks in favor of pour overs or espressos to get the purest experience possible. Of course, if you're able to, I recommend you do as I did, and have at least a few different coffees.
I enjoyed Goodman Coffee so much that in my short stay in Kyoto, I went at least twice a day to get as much of the experience as possible. I tried various roasts, preparations, and chatted with Ito san. He really enjoys coffee, and is possibly one of the nicest people you're going to meet. If you're in Kyoto and like coffee, I highly recommend Goodman Coffee Kyoto as a place to visit at least once. You can learn more about Goodman Coffee on their website, or follow Goodman Coffee Kyoto on Instagram. You can follow me on Instagram (@coffeeryokou) too!