Kobe likes coffee. You'll find many coffee shops all over, but most will be a older coffee shop that serves coffee in gold trimmed china on top of a doily, a chain store, or at best, a 2nd wave shop that pretends they care about coffee origins, but really they roast every variety the same thing until you can barely tell the difference anyway.
Lima Coffee in Motomachi is a 3rd wave cafe that gives you the option of different brewing methods to enjoy your coffee. Their main method of preparing their delicately roasted, and impressively large selection of varietals is the siphon method. This immersion method of brewing coffee can extract quite a bit of flavor in a very short time. This leads to a lot of flavor, with less bitterness than something like french press, or even pour over methods. Like the french press, there is no paper filter either, so you get to enjoy the nice body that comes from the oil in the coffee, and isn't filtered out by other very popular brew methods like pour-over drippers from Kalita, Chemex, or V60.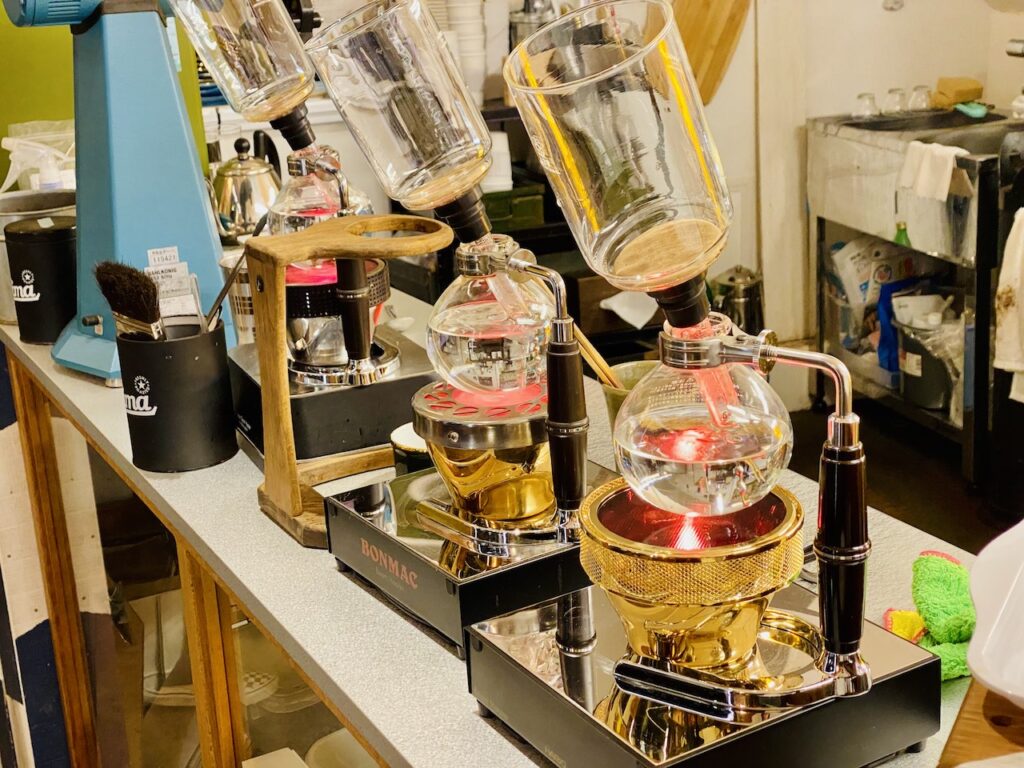 I chose a coffee from Panama for my siphon coffee and I was not disappointed in the preparation. In addition to the great aromas from the roast, I was able to pick out some hints of molasses and cherry from the coffee. There was not a hint of bitterness as I enjoyed the cup of medium dark coffee. If it weren't for the relatively large amount of space that a siphon dripper takes up, I'd consider getting one, and I already have enough coffee stuff sitting in my apartment.
You can also go for an espresso based coffee, but you'll only get their daily blend. It is fun in that their daily blend may change depending on what they put into their bean mix. The blend I sampled on this visit was a Brazilian Catuai and a Costa Rican varietal. The cappuccino was prepared fairly well and was served in their rustic ceramic mug. If I'm being picky about it, I would subtract a few points for the milk being slightly heated too long, but it wasn't that bad.
Despite their impressive coffee equipment being so prominently displayed, the rest of the cafe deserves a bit of attention as well. It seems as if it was decorated as a log and brick cabin, with parts of the outdoors brought indoors for a woodsy camping experience. In fact, they were boiling some water on a camp stove in a kettle for that extra sensory experience. Many plants were scattered about, and many eclectic decorations placed all over. Because the room was so spacious, it didn't feel cramped at all. Some decorations provided a secondary and tertiary purpose, like a ladder that doubled as a coat rack, and was placed strategically covering a potentially dangerous grate leading to a basement level. Hidden from view was a pair of large roasters. Odd, considering most cafes proudly showcase their roasting equipment, however perhaps they wanted to retain the experience of being in a cabin, and to emphasize the camping experience even further, they do not offer Wifi in the cafe either.
From their list of standard cafe fare, I ordered a carrot cake. At first bite, I thought the texture was very odd; it was almost like a light egg tart. There was no spice in it at all, and I struggled to find any noticeable carrot pieces (or flavor). It wasn't unpleasant to eat, but it just didn't taste like a carrot cake, or even a cake. I just don't know how to describe it; I'm going to go with egg cake. I'm not sorry I ordered it, but at the same time, I would likely not need to order it again, but it was interesting at least.
I definitely recommend Lima for their siphon coffee and large list of coffees you can try. It's also pretty relaxed and open, so it would be a nice place to relax a bit after touring Kobe bay. You can learn more about Lima Coffee Motomachi on their website or their Facebook page. You can also follow me on Instagram (@coffeeRyokou) if you want up to date info on my coffee trips.