If you happen to be in the Kita Ikebukuro area, about a 4 minute walk from the station of the same name, there is a little cafe called Wavy Coffee Roasters. As you approach the recently renovated building, you can immediately see this will be a modern cafe with its cool concrete, tempered with warm woods, and vibrant green accents. There is some low counter seating, along with a few small tables and chairs; comfortable enough to sit with your coffee and small snack. They also have Wifi if you need to get some work done or you'd like to surf the Internet during your visit.
I had a pasta bolognese for lunch, and it came with a side salad. The salad was nearly impossible to eat neatly because it was served in a small glass; anytime I tried to stick my fork in, bits of salad would fall out. Very stylish; very impractical. The pasta was nothing special. It's well prepared, but I would never come here just to eat pasta.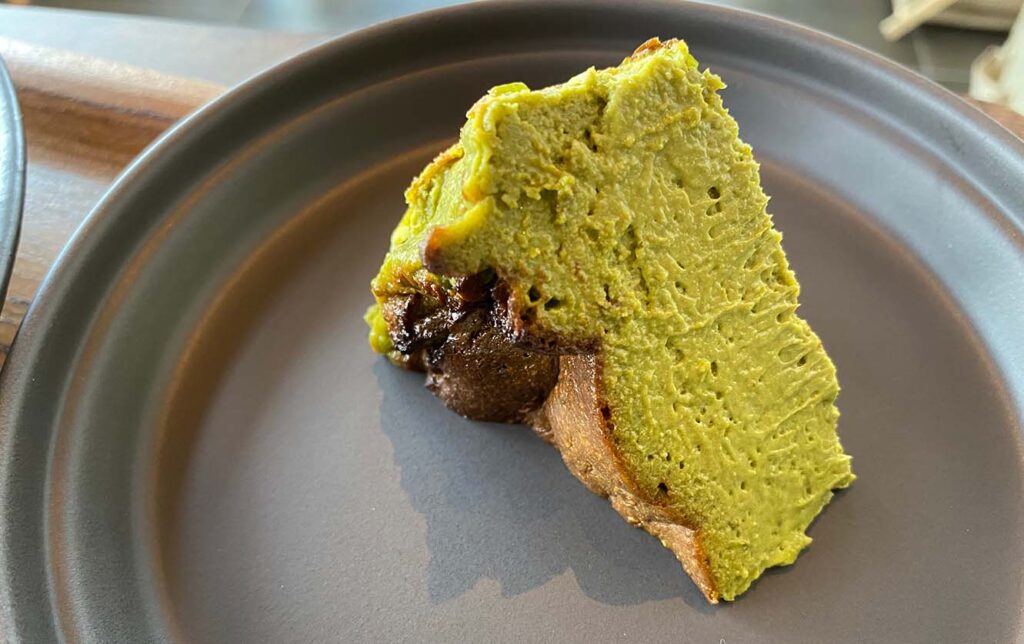 I also ordered the matcha basque style cheesecake. Being a big cheesecake fanatic, I wasn't sure what to expect. Just to give you a frame or reference, I'm not a huge fan of fluffy and light cheesecakes. I want my cheesecakes to be substantial. This cheesecake is a good medium bodied rare style basque cheesecake. The insides weren't fully cooked, giving the inner most parts of the cake a thick and smooth texture. The exterior was baked dark, and that in contrast with the natural bitterness of the matcha, provided a nice contrast to the smooth and sweet cake.
I had two coffees while there, and the first was an Ethiopian Yirgacheffe with natural processing and a medium-light roast. It had a great balance between the fruit-forward nature of the bean and the roast flavors. Usually this coffee is often under-extracted in my opinion, leading to a sour and almost salty drinking experience. However, the deep and complex roasted flavors balanced out the juicy acidity nicely here. I also had a latte here. I was a bit reluctant to order it because I'm not usually fond of a lightly roasted coffee in a milk based drink. I was pleasantly surprised here – instead of the odd tanginess I got from a fruity bean in my milk, I instead got a buttery and nutty latte. I was so happy with it that I bought some beans for me to take home. Sure enough, I was able to get a similar buttery and nutty latte with these wonderfully light roasted Ethiopian beans from Wavy.
I highly recommend them as a stop for coffee enthusiasts in the area – especially seeing as how there are few choices for a 3rd wave coffee cafe and roaster in this area. You can find out more about Wavy Coffee Roasters at their web site.