Nihonbashi in Tokyo, Japan is one of larger commercial centers of the country. Although named for the bridge in the middle of the city, the large shopping district is probably the larger draw for this area. In the Coredo Muromachi (室町) Terrace, you'll find Wagyu Burger. Japan has many specialty burger places, and they're all pretty similar. Some kind of brioche bun, a giant wad of lettuce, an overly thick slice of tomato, and a coarsely ground patty that may be lost within the other ingredients. Wagyu Burger is not like this; Wagyu Burger would be at home on the menu of the best gourmet burgers from the USA.
What makes Wagyu Burger special, is that they're actually run by a famous yakiniku restaurant, Heijoen. The pieces of A5 Wagyu that don't make it to the yakiniku grill find their way in to Wagyu Burger. This means that Wagyu Burger can sell out of their patties, causing them to close earlier than their posted hours, or at least that's what happened to me on a couple of occasions when I tried to go there for dinner. I didn't have any problem getting a burger at lunch time on the weekday though. (If you don't know what A5 graded Wagyu is, then you're missing out on a defining culinary experience. Real Wagyu is from one of four breeds of cattle for beef in Japan. The best, most tasty, and therefore most expensive pieces of beef are rated as A5.)
Wagyu Burger is an open shop in a shopping building, and has all the conveniences attached to that – lots of seating, free WiFi, easy access to restrooms. Most of the seats are counter-style, but there are a few tables that you can push together for parties of 4. Ordering is straight forward as there are only a few items on the menu: burgers, sets, sides, and drinks. If you dine in, they bring your burger to you at your seat. Service, as usual in Tokyo, was efficient and friendly.
When the burger arrives, you can see it's different than a typical specialty burger. This one has a prominent branding burned into their shiny brioche style bun. Inside the bun, you'll find mayonnaise (Japan style). Next, you'll findWagyu bacon – this one has great smoked flavor, and gives a great texture and umami to the experience. On top of the patty, you'll find a minced mushroom sauce; it adds more umami, enough said. The patty itself is juicy, big-enough (for Japan), and has amazing flavor. Although the grind is coarse, like many specialty burgers in Japan, because the meat is so tender, you don't even notice it – only the great flavor and juiciness. Hidden beneath the patty, are some slices of grilled onions; they add some flavor and sweetness that compliment the other ingredients well. You'll also find a critical component to a rich burger here – the pickles. The acidity of the pickles gives your palette a respite from the rich flavors, and they allow the other flavors in the burger to be experienced again, and again, and again. Last, but not least, in the list of curated ingredients is their special sauce; it's been refined using their experience from their famous and successful yakiniku restaurants.
I have to say this burger is one of the best I've had in a while. The complex and focused flavors meld perfectly to give you a simple pleasure of a well-crafted burger. One could argue that the flavors are bordering on being too rich, but even with the intensity of flavors, it would be hard to argue against the balance of flavors from the well tested culinary formula of salt, fat, and heat in a good burger. If you're searching for a good burger in Tokyo, this one is worth a trip to Nihonbashi even if it's a little out of your way. You can check them out on their Facebook page if you're interested in more information.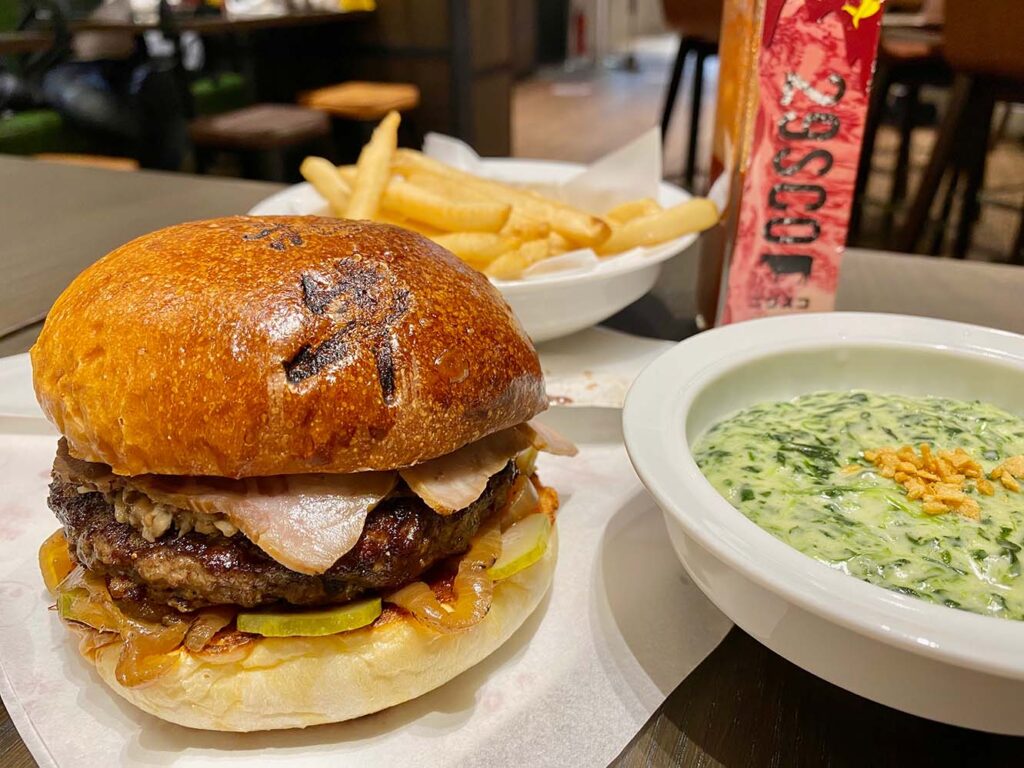 Update on January 8, 2021
So I enjoyed the burger so much the last time that I had to come back right away to try it again, and to try a few sides as well. I tried the french fries and creamed spinach with my burger on this trip. As before, the burger was delicious and juicy, so I'll focus more on the sides for this update. It is comforting though that the burger was just as good as it was the last time.
The fries are a bit thicker than McDonalds french fries, and are seasoned with salt. They are well cooked and also drained well – no oiliness. The interior is soft and fluffy, and the exterior has a good bite to it. I won't call them crunchy, but they were definitely not soggy. The fries get a passing grade from me.
The creamed spinach is pretty decadent; they are very creamy and rich. I actually thought it might have made a good dip for the fries, but the creamed spinach was simply too thick to use as a dip. I felt a bit guilty ordering this dish as my serving of vegetables for dinner, but there wasn't any other option, so this is what I got. It's definitely tasty, but I would probably wouldn't recommend it to someone on a restricted calorie diet.
Wagyu Burger has solidified it's spot as one of my favorite burgers in Tokyo. Perhaps next trip, I'll try the pudding offered for dessert.