As I was wandering around Kobe, just 5 minutes from the JR Motomachi station, I walked past Voice of Coffee. It's easy to miss; other than a small sign on the sidewalk, it's an otherwise unassuming store front. But go inside, and you'll find a shop that shares and embraces coffee knowledge and culture.
My visit to the shop was a challenge at first. Not only was finding the shop a little difficult, but also the door handle seemed to be missing, and I couldn't open it. After the store attendant saw me struggling with the door, he came over to push it open for me. I know the shop was designed with a minimalist architecture in mind, but omitting the door handle might be going too far. 😉
As you enter the store, you quickly see that the design is basically bare concrete and glass – a rather stark feel, only accented by the large metal roaster in the back of the shop. By the counter, you can choose from a selection of beans that are displayed. You can easily see the roasting notes, levels, and choose what you'd like. The coffee is prepared as a pour over, and at the time I visited, they were enforcing COVID19 prevention measures, and so only take-out was available. Of course, you can also buy coffee beans or grounds if you'd like to prepare the coffee at home instead.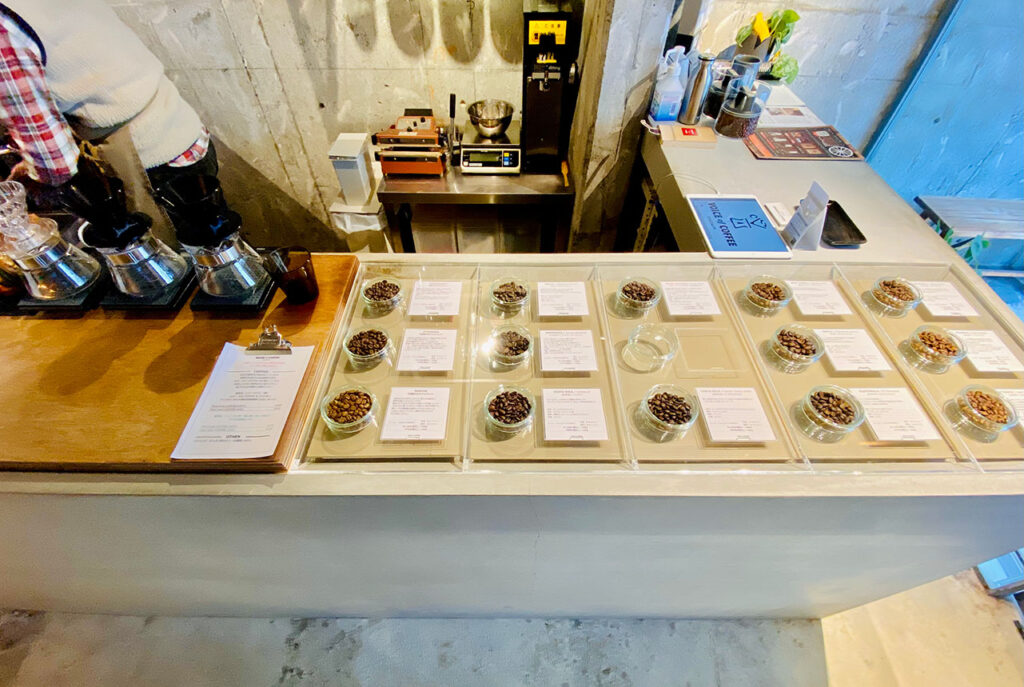 I chose a Costa Rican coffee from el Vendaval. This particular varietal was a honey processed catuai, and is one of the popular beans from Square Mile Coffee, which is a famous roastery in London, operated by James Hoffman, a world renowned coffee expert. If a World Barsita Champion like James Hoffman likes this bean, well, then I figured I should try it too. Voice of Coffee chose to take this bean to a medium/city+ roast level – light enough to keep origin characteristics, but dark enough to create some complexity and sweetness.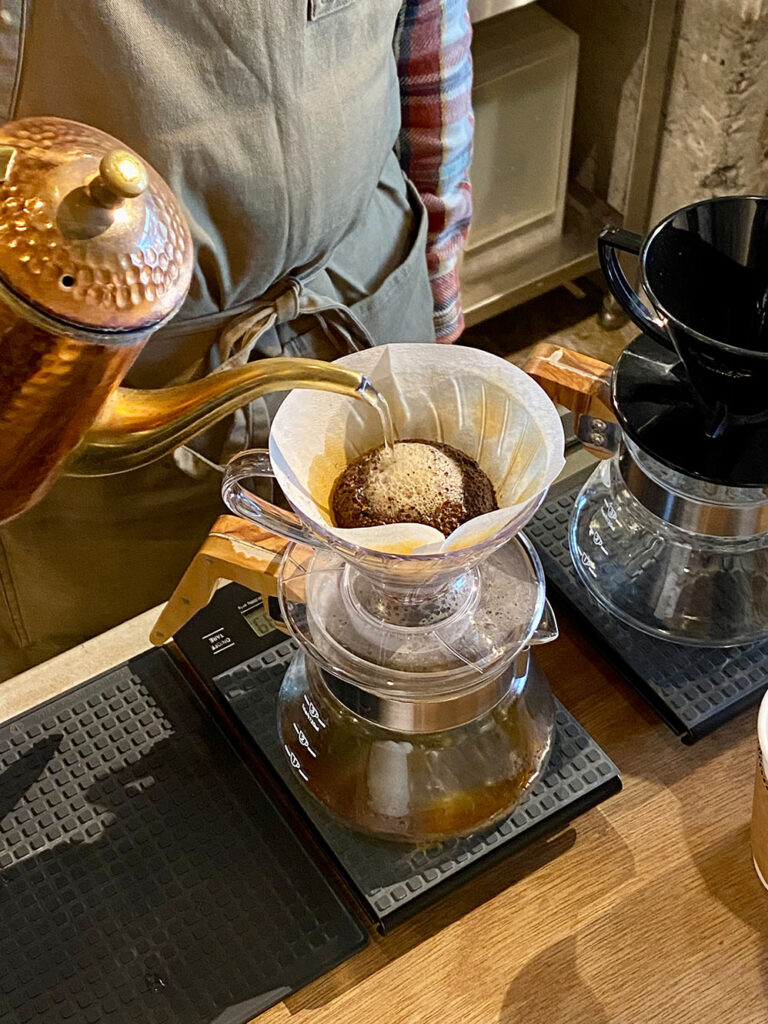 The cup was prepared with care and utmost professionalism. The brewed cup of coffee was extremely balanced and easy to drink. There was a light floral and nutty aroma as I took my first sip. I got notes of bright cherry, and a taste of hazelnut on the finish. The body was medium and left my palette clean, with no lingering aftertaste. I can certainly see why this is a popular bean – it's very easy to drink, and is a good entry into 3rd wave coffee if prepared well: it still tastes like a very "generic" coffee, but with extra flavors to pick out if you think about it.
In addition to all the roasting done here, this shop gives seminars on coffee. You can learn about the lifecycle of coffee, from the farms and distributors, all the way to roasting and brewing. Another important aspect that Voice of Coffee addresses is the environmental impact of the coffee industry, and they actively participate in trying to improve the impact that the coffee industry as a whole has on the environment. For example, they are raising awareness about reducing the use of disposable plastic; this is a very worthwhile goal!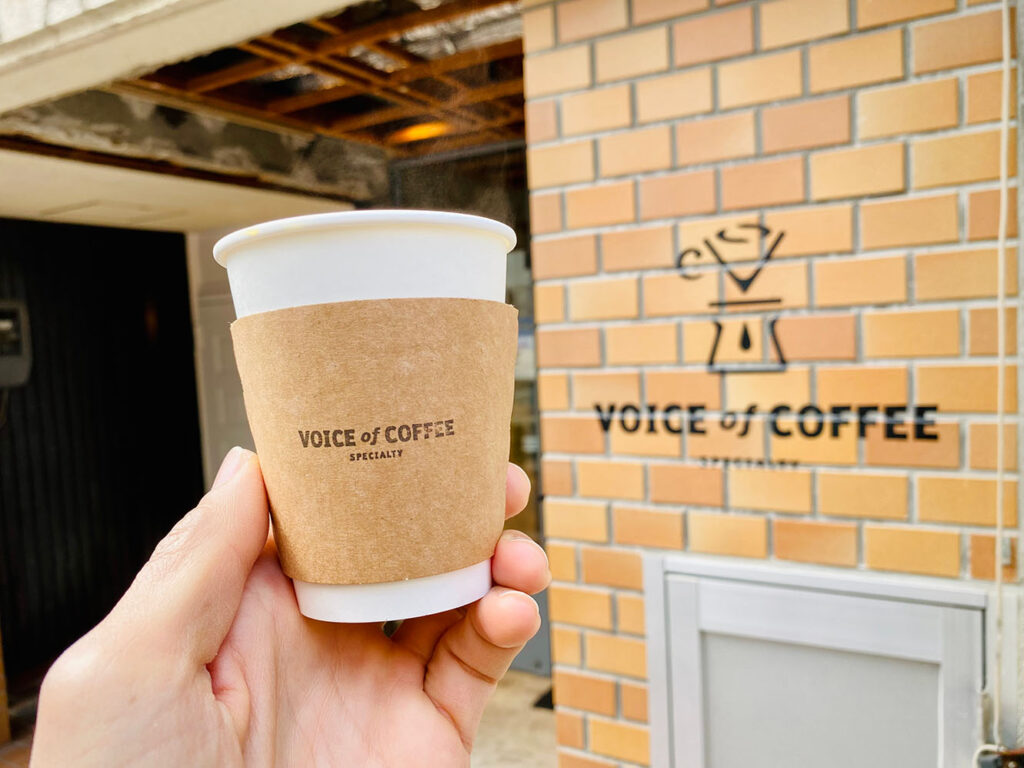 All in all, if you're in the area, I recommend you stop by Voice of Coffee for a cup of pour over coffee. There's a good variety to keep you coming back to try other coffees, and they have a good mission in preserving the coffee industry, the environment, and giving a voice to coffee. If you'd like to learn more about Voice of Coffee, check out the Voice of Coffee website or follow Voice of Coffee on Instagram. If you want updates on my coffee trips, you can follow me on Instagram (@CoffeeRyokou) too!