A short 6 minute walk from Iriya station on the Hibiya Tokyo Metro line, you'll find Davide Coffee Stop; a small cafe with a theme reminiscent of the south western United States and Mexico. The colorful decorations and energetic Latin American music is definitely a different vibe you'll get from your typical coffee cafe in Tokyo. As I was taking in the scenery of the fun cafe, I quickly brought myself back to attention because very near to the entrance, once you enter is a steep set of stairs to a vintage shop underneath the cafe. Dark woods, leather, and various paraphernalia give the whole shop a South Western American vibe, and make you feel like you could be on a cross-country road trip in North America. There are a couple of high tables to sit, and couple of counter seats around the bar. If you don't see seating for yourself at bar level, very close to the virtual ladder going down to the vintage shop, you'll find a set of stairs leading up to a small seating area above the bar area, where a low counter and a few seats give you an aerial view from the top of the cafe.
Go up to the bar next to the bright red La Cimbali espresso machine to make your order, and Davide will take your order. He speaks a bit of English and is a really nice guy to have a conversation with. I asked for his recommendation, and he immediately went straight to espresso – nice. Espresso is a good drink to highlight their beans, which come from Caffe Vita. You can choose from their medium blend, or their dark blend which is made with some Robusta for that extra thick mouthfeel and creamy crema. Their espresso was served properly in a preheated demitasse cup and little spoon to stir the crema back into the coffee. I took my first sip, and found that it was a well balanced shot. My experience was sweetness first, with a finish of fruit coming in after the initial sweetness subsided. I finished my shot, and savored it as long as the lingering flavors would last.
Next up, I decided to go with a milk drink, and contemplated between a latte or a cappuccino. When I hesitated trying to decide what to order, Davide pointed out that the latte has more milk, and would have a less pronounced coffee flavor. I decided on the cappuccino just because I wanted a slightly smaller drink. I also made a mental note that there were many other interesting sounding drinks on the menu – like a "Shakerato", an espresso tonic, and even some other drinks with alcohol; I decided that I may need to try these on future visits.
I watched his careful and subtle movements as he steamed the milk. I could see the glossy and silky texture as soon as he pulled the wand; this guy has got some serious skill. The cappuccino was served with a bit of cocoa powder to give extra depth of flavor and nice visual contrast in the cup. He poured a slow leaf latte art into the cup and the perfectly steamed milk's viscosity was on display as the milk domed over the edge of the cup. It was a perfect modern wet cappuccino – amazingly thick, luscious, and creamy milk from the skillful steaming, in a low ratio to the espresso. I asked about the amazing milk, and Davide shared that he uses rich-style milk.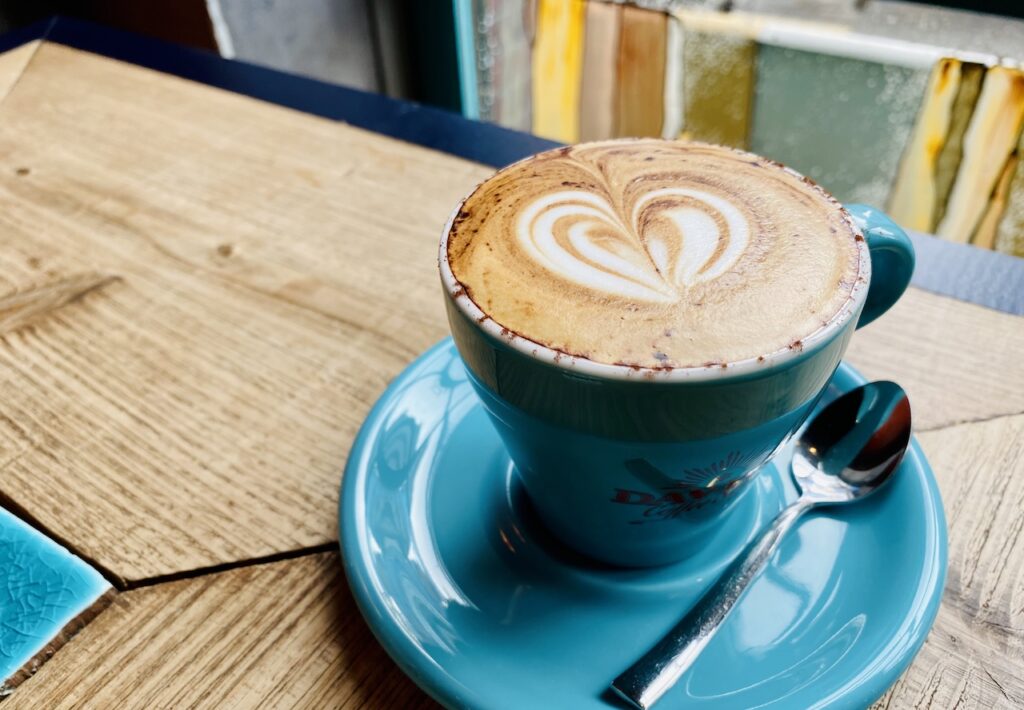 I was now totally sold on the cafe, and decided to spend a little more time here. So I tried something from the food menu. Basically you get to order between a grilled cheese sandwich or a homemade pound cake. The grilled cheese is made with 100 grams worth of 4 different kinds of cheese, and you can add ham to it if you'd like, and that's what I ordered. The crusty white bread is brushed with butter, and the whole sandwich is grilled until the cheese is melted and the outside is golden brown. It was served with a few baby pickles (probably from a jar) to help cleanse your palate between the oozy and cheesy bites. The condiments available with it are simple: salt & pepper, olive oil, or hot sauce. The hot sauces were either a red habanero or a green jalapeno; I was happy that neither tasted like Tabasco and had more character. It was a great grilled cheese sandwich. I don't think it needed the ham, which didn't add any extra dimensions for me.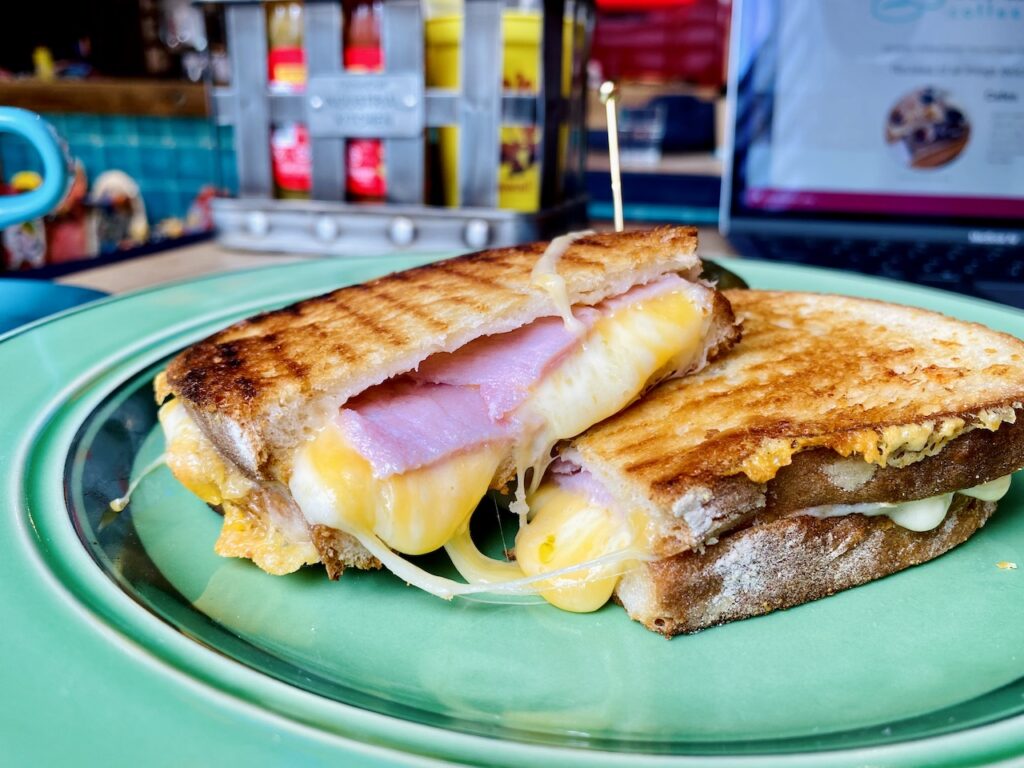 The cafe was quickly filling with patrons, who all seemed to know the owner, and so I took that as my cue to leave. The limited seating and no Wifi is a subtle hint that you should probably monitor your time here. But after having that amazingly good cappuccino, I'm likely to come back to Davide Coffee Stop again soon. If you're in the Taito area, or even if you need to take a detour to come here, I'd make an effort to do it and come visit Davide Coffee Stop. You can follow Davide Coffee Stop on Instagram. You can follow me on Instagram too (@coffeeRyokou)!