Shinjuku has the world's busiest train station. Before COVID19, more than 3.5 million people would pass through Shinjuku station on any given day. With this many people passing through the area, you would think there would be more specialty coffee shops. Perhaps the high rent in this high foot traffic town limits the business opportunities to the large chain stores. But a short 10 minute walk from Okubo station in Shinjuku, you'll find Alternative Coffee Works. Aptly named for a change of pace compared to the big chain coffee shops, this little 3rd wave coffee shop roasts their own beans, and prepares hand drip pour-over and espresso based coffees.
They have the modern minimalist style nailed down here with the cool plain concrete and warm woods throughout the shop. The high ceiling helps the place feel more open than the square footage might suggest. There are only comfortable chairs and small side-tables here, but they do offer free WiFi.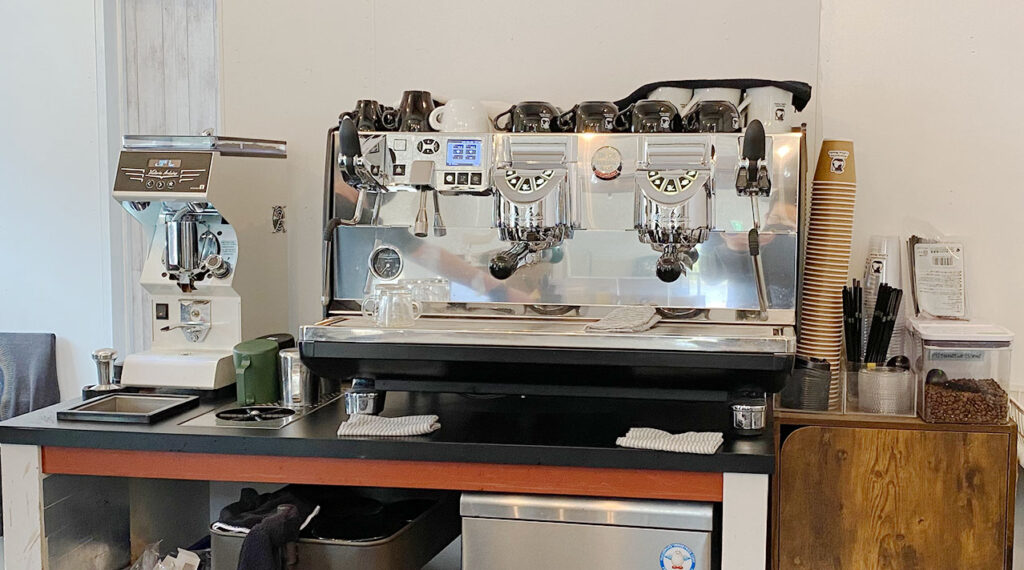 The back of the shop has their coffee equipment prominently on display. A Victoria Arduino Black Eagle, Mahlkonig grinders, and a nice roaster show they have the equipment to do the job right, but what about their baristas and roasters? Yes, they have skill at both positions; they have some amazingly well roasted coffees here, with light to medium-dark roasts to suit many different tastes. I tried a couple of varieties of Ethiopian, Colombian, and Panamanian beans here, and all were delicious and well extracted, with a good balance of brightness and sweetness in the cup, while highlighting their different origin characteristics.
By the front door, small bottles of beans display the beans levels to help you choose, but the bottles are closed, so you can't smell them. COVID19 being what it is when I visited this cafe, it's probably better that you can't take off your mask and inhale anyway. I did notice that they took COVID19 precautions very seriously here, as I observed them wiping surfaces down very regularly with alcohol.
They also have small pastries here that while not amazing, were still very good. I usually have a scone when visiting – so that says I like it enough to order it often, but I won't go out of my way for one. The real draw here are the varieties of coffees that you can try. I had some lightly roasted Ethiopian beans here as well as some medium South American varieties, and each time, the origin characteristics of the coffee were front and center, but well balanced with the roast qualities. They also offer espresso tonic if you're into that. It was okay here. I'd put more ice and a slice of lemon or sprig of mint to fancy it up a bit, but otherwise a nice and refreshing drink.
For more information, you can follow Alternative Coffee Works on Instagram. For more regular updates on my activity, you can follow me (@CoffeeRyokou) on Instagram too!