Coffee culture has gone through three distinct "waves" where different flavors and cultures were highlighted. The first wave of coffee culture bloomed in Italy where espresso was first invented. Robusta and arabica blends were dark roasted to give a thick flavor and syrupy mouthfeel. People at the cafe often had their espresso at the bar, drank it within a minute, and were on their way. Other first wave coffee houses were small cafes that served extremely dark coffees that helped them sell sweet cakes and other small snacks. Others attribute the freeze-dried coffee era as the "first wave" but I see it more as Italy, at the origin of espresso or those cafes that served coffee in enameled china and pots. The second wave of coffee can be characterized by the onslaught of Starbuck coffee chains popping up with 4 shops on a single block, at a franchised store where patrons would lounge for hours while reading a book or working. These mass producing coffee chains often served up bitter and dark coffees to normalize the coffee experience, hiding any chance at recognizing the original flavor of the coffee. People unknowingly believed this to be pinnacle of coffee flavor and experience, but patrons would often added flavoring and sugar to these coffees that poorly misrepresented the first wave of coffee from Italy to make them more bearable, not knowing that coffee had much more to offer.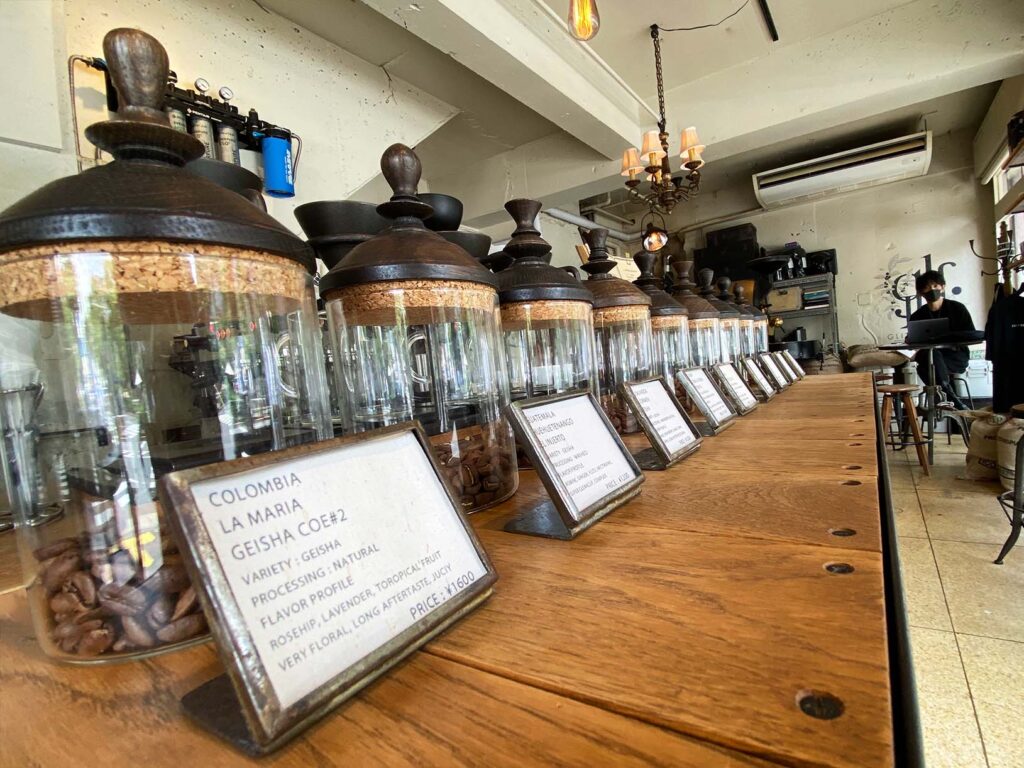 Enter the third (and current) wave of coffee culture. One of the characteristics of "third wave" coffee is that there is much more transparency on coffee origins and flavors, to achieve this, coffee is often lightly roasted. Cafes following the newest trend are often much smaller than the big chain stores, and emphasize a more guided and educated approach to serving coffee. There are often posters of coffee bean origins and farmers, colorful tasting wheels to teach you about the flavors you can experience, and often times a barista will happily teach you about what they're serving if you're confused as to what to order. Yes, there are many other coffee cultures around the world that don't fit neatly into these generations as defined here, but those coffee cultures are more tied to specific country cultures, and less to the general cafe trends.

Glitch Coffee & Roasters fit neatly into the 3rd wave of coffee experiences. Tokyo still has a very strong 2nd wave and even 1st wave coffee vibe, and the modern cafe is really just coming into it's own. At Glitch, you can only have single origin (beans aren't blended to get a flavor profile) light-roasted coffee. These specialty coffee's can sometimes cost you between ¥700-¥1600+ for a single serving prepared as a pour over coffee, but they of course offer a variety of more affordable coffees, including espresso based drinks.
Glitch is less than a 5 minute walk from Tokyo Metro Jimbocho station (Mita, Hanzomon, and Shinjuku lines). At the main entrance, you can see the variety of coffees you can choose from, and there are often 8 or more varieties to select from at any one time. You can also purchase beans or maybe a small pastry from a tiny selection they have on hand. The baked good selection is usually some take on the ubiquitous banana bread or a perhaps a small scone that you'll often find in cafes in Japan. It is worth mentioning that this caramel nut scone was actually pretty good. It wasn't overly dry and sandy, nor was it iced with sugar. The dark caramel added some sweetness and complexity that perfectly complemented the nuts in the scone. If you look even slightly confused, one of their baristas will happily jump in and offer you help if you don't know what to order. Some of them speak some English also, so that helps if you're unable to speak Japanese.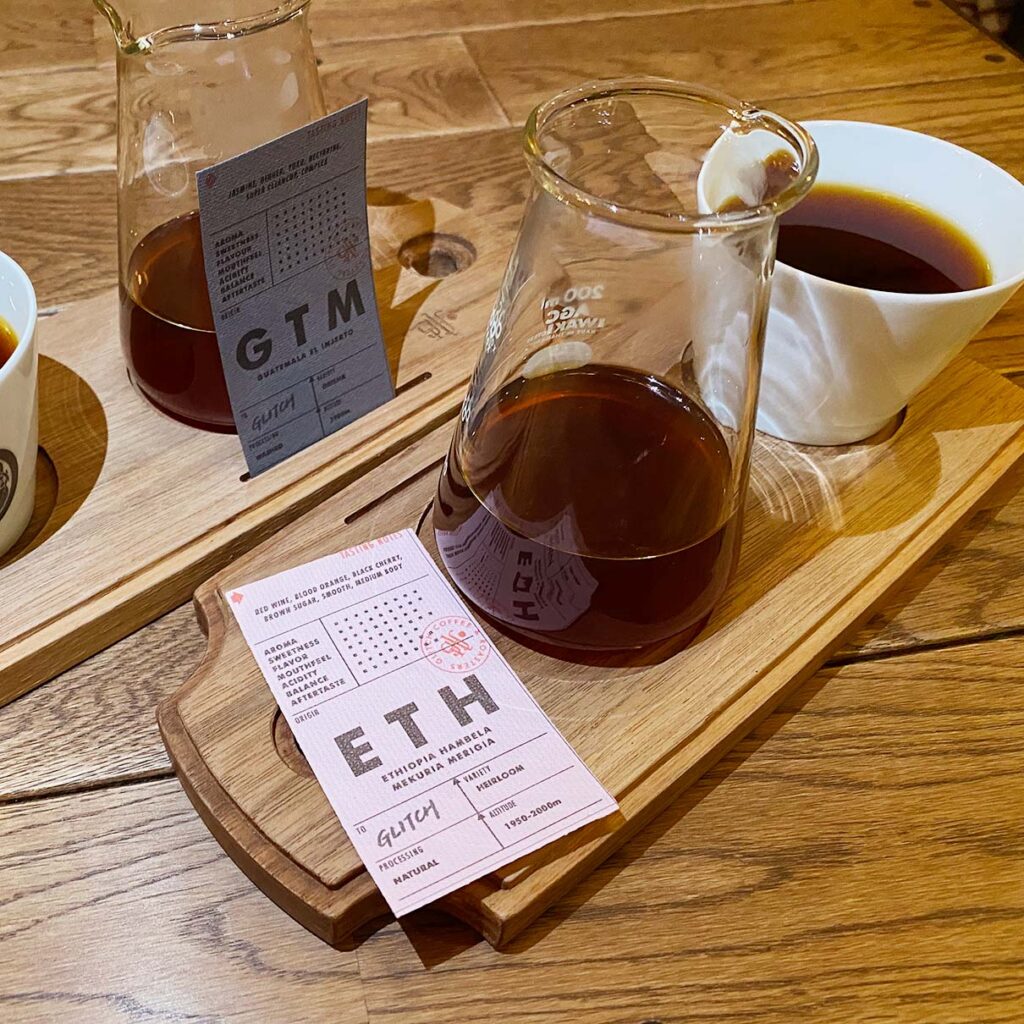 The 3rd wave vibe is strong in here, as they prominently display their roaster and many bags of coffee they will be preparing. They also have a nice little audiophile sound system playing generally American music from different genres, from old time rock-n-roll to more modern easy listening. If you don't want to go into the shop, you can order a coffee to go from their window; the ordering window is next to a small area outside for people who want to smoke and drink their coffee; thankfully, I have yet to smell any smoke in the cafe while I was visiting and enjoying my coffee.
If you order to enjoy your coffee inside the cafe, you can sit at their bar area (3-4 seats) and enjoy the show as they prepare the coffee for you, or you can sit at one of their two small tables or use counter seating. Although table seating is rather limited, I haven't had a problem getting a seat usually, as people are often in and out to enjoy their coffee and continue on their way back to work. I recommend watching their skillful baristas prepare your hand poured coffee at the bar. They have different brew recipes for each coffee to help them bring out some of the flavors noted in their tasting notes. Hand poured coffees are served on a neat little custom tray that holds your carafe, your cup, and some tasting notes for your coffee.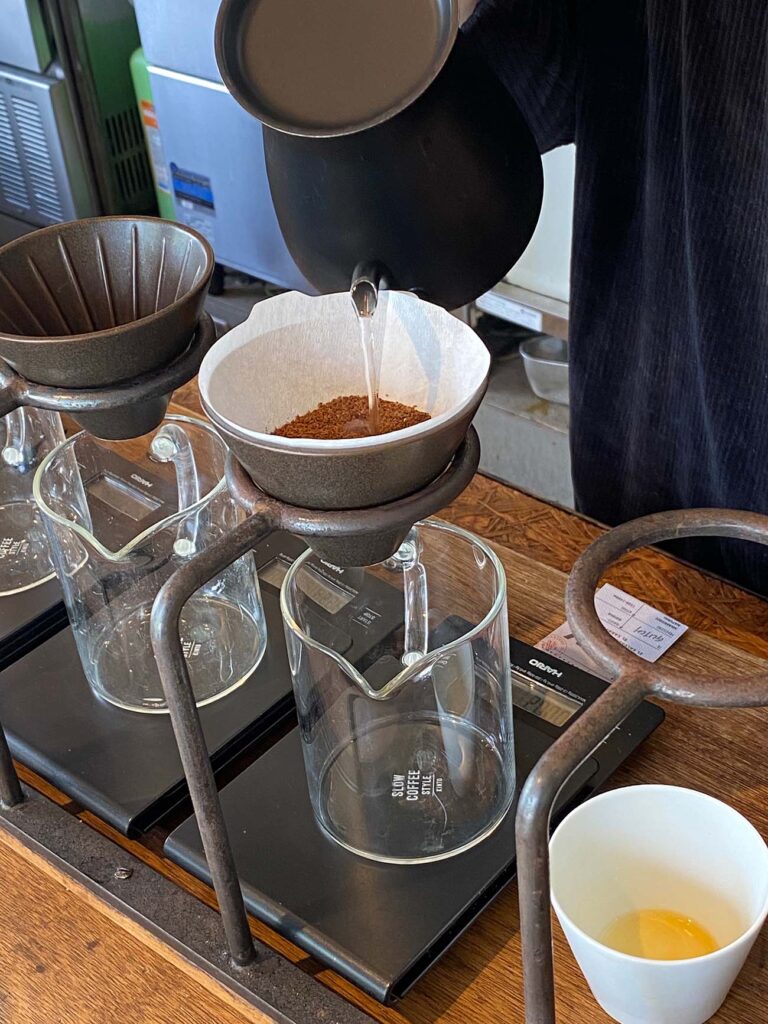 You can expect to experience many more flavors from these delicately roasted beans, something you will not get from a dark roasted 1st or 2nd wave coffee houses. Some of the best coffees I've tried have flavors like apple pie and cinnamon in your cup. I've also had a cup of coffee that tasted of port wine and milk chocolate. I really enjoyed talking with the baristas here, as you can tell they have a real love of coffee. Glitch is my default cafe when I want to get a cup of 3rd wave coffee close to Tokyo because of all the different coffees you can try. Keep in mind again, that they only serve light-roasted coffee – if you're craving a bitter and powerful cup of coffee that resembles oil, go someplace else.

You can find out more about Glitch Coffee & Roasters at their web site.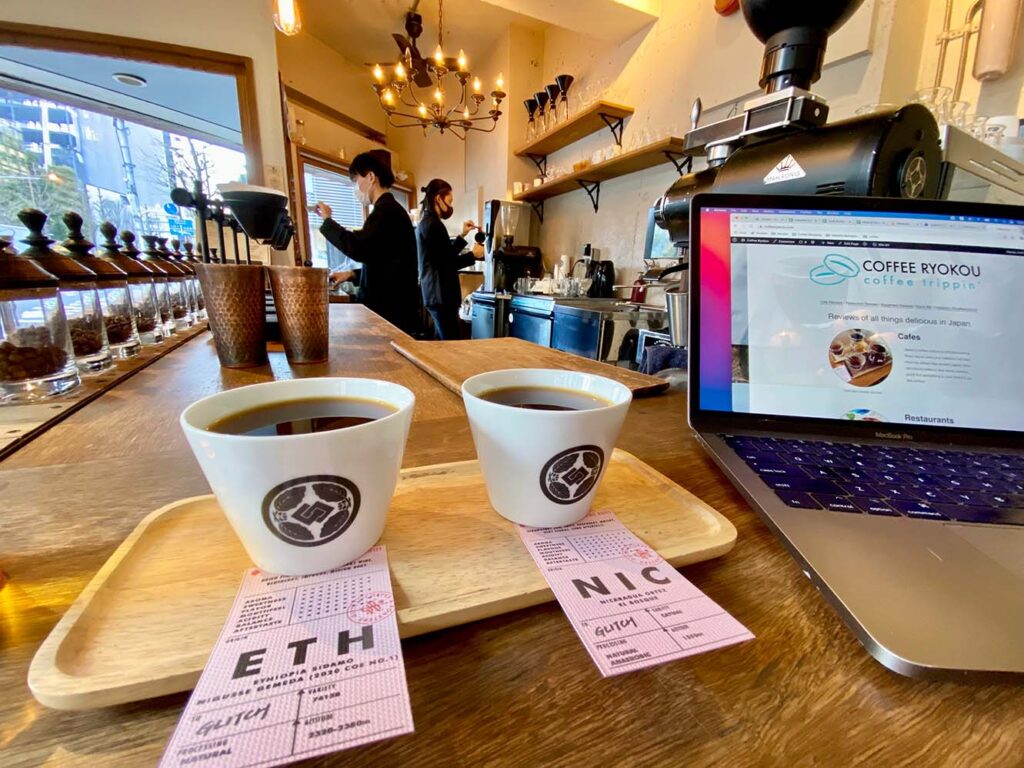 Update: January 18, 2022
Another great way to learn more about and enjoy coffee is to compare different kinds of coffee. The best way to do this really, is to taste 2 or more coffees side by side; this lets you do an immediate comparison. Your memory of a flavor or texture of a coffee may change, and even the experience over all will be different if you taste them at different times,,On the other hand, having 2 coffees at the same time, and alternating between them can really highlight the differences between coffees. Glitch offers "Taster Shots" on their menu where you can select 2 different coffees, and they will prepare them both for you at the same time. I highly recommend this if you really want to see the wide variety of flavors coffee can have. Of course when ordering a taster set, Glitch baristas will happily tell you about each of the beans, your potential tasting notes, how they're different, and even give you recommendations. The best part of this, is that you get a ¥300 discount while getting to try 2 different coffees.
Follow Glitch Coffee & Roasters on Instagram. Follow me too! (Coffee Ryokou on Instagram)