Alpha Beta Coffee Club
Jiyugaoka has no shortage of great eats and coffee; Alpha Beta Coffee Club is a great place to settle in and enjoy some coffee. Located just a short 5 minute walk from the Jiyugaoka station, Alpha Beta Coffee Club is on the 3rd floor of an unassuming building. Because of this, ABC Club's clientele are usually people that know what they're looking for, and less about people who happen to wander in looking for frozen coffee milkshakes or sugar and pumpkin spice lattes. The 3rd floor also affords them to have a nice outdoor terrace where you can sit and enjoy your brews when the weather is nice. The main seating area is dominated by a large communal table, several bench seats, and a few smaller tables for pairs of patrons. Bright white and light wood accents give the cafe an airy feel, and the large window leading to the open terrace certainly helps with that as well. Although they have free Wifi, ABC Coffee asks that you limit your time spent in the cafe to 2 hours. You can check the time on the modern clock on the wall, which perfectly reflects the style of cafe that Alpha Beta Coffee club is: modern.
Alpha Beta Coffee Club is true to its name in that it doesn't offer coffee from just one roaster, but several roasters. You can see what the current offerings are on their menu, or on their shelves where you can purchase packs of coffee to take home. In addition to the standard espresso and hand drip (V60) coffees, they have some nice savory and sweet snacks, like a Kim Chee grilled cheese sandwich, avocado toast, or house-made pudding. Of course, like 95% of other coffee shops in Tokyo, they have some form of banana bread also. Some day, I will try one, but it wasn't this day.
After waiting to get in and get a seat, which can be a challenge on weekends, I was able to place my order with the friendly barista waiting to take my order. They told me to have a seat, and they would take my coffee to me when it was ready. I instead asked if I could take photos while they prepared the coffee, and they were happy to oblige. If you do plan on visiting ABC Coffee more than a few times, I recommend asking for a stamp card, since they may not offer it to you automatically.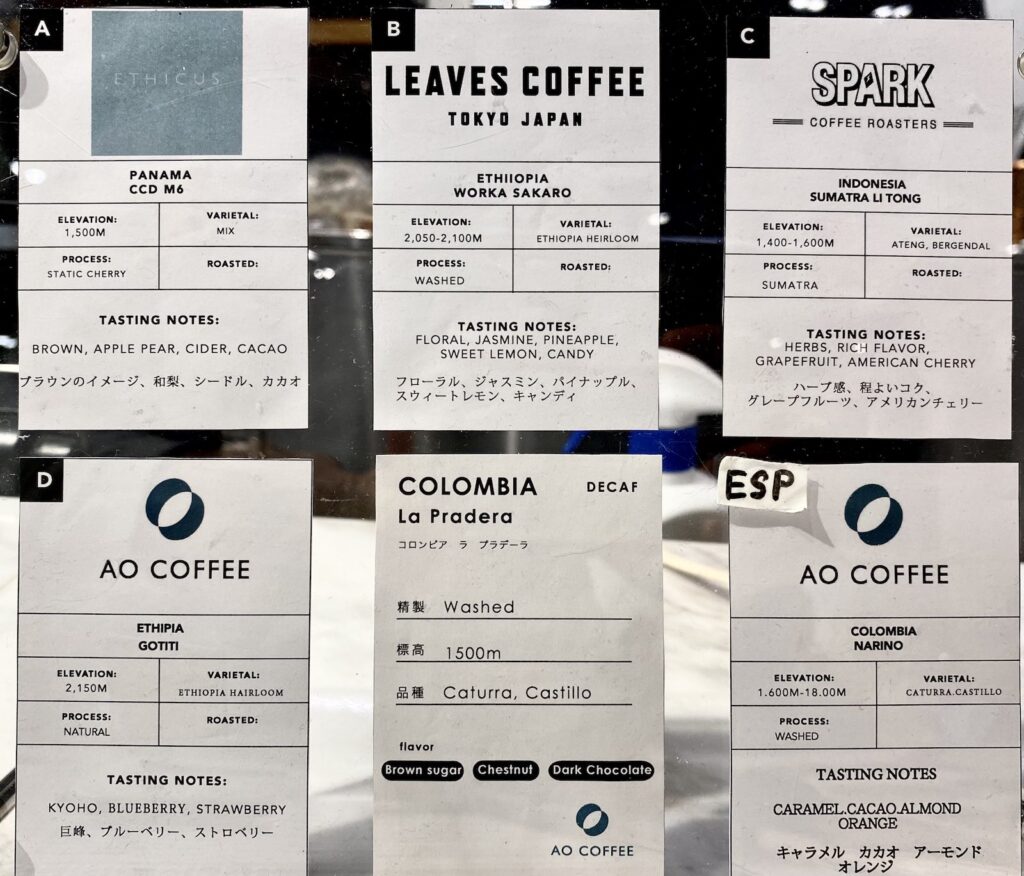 This trip I had 2 V60 coffees. Considering I already had a some coffee already at home, I knew this was going to be a late night buzzing on caffeine. I had an Indonesian Sumatra coffee for my first Spark Coffee Roasters. Quite honestly, I've never really cared much for this variety of coffee, but I ordered it to stay updated on the flavors, and to see if my tastes are still consistent. The subtle herbal and grassy aroma of the coffee was more subtle than the last Indonesian coffee I had, but it was still present. The slightly spicy tea flavor dominated the coffee and reconfirmed what I was expecting to taste from the cup. The body was more astringent and drying than what I expected. The coffee tasted well extracted though, so I don't think this was a brewing error, but more part of the flavor profile. There was a nice surprise for me at the end of each sip: a bit of cocoa flavor lingering on the palette, which made sense to me when I considered the body of the coffee. If you like Indonesian Sumatras, this was a good subtle example, even though this was not what I normally prefer to drink.
My second cup was interesting because it was a mix of different varietals from Panama with static cherry processing from Ethicus. I usually see coffees served from a "single origin" at fancy 3rd wave coffee shops, but now I wonder if all the beans being from Panama, despite from being from different types of beans still qualify as a "single origin" coffee. This processing will emphasize the fruit flavors during this anaerobic style of processing. A pleasant apple like sweetness was very apparent in this lightly roasted coffee. I drank this coffee a bit slower, and was able to enjoy it at temperature a little longer, because Alpha Beta Coffee Cub serves their coffee in double-walled glasses, which helps them hold heat in a little longer.
I decided to try a Chai Latte with soy milk. They brew a tea, spice it, and then use only honey to sweeten it. I was happy to try a chai tea that didn't come from a powder mix, so I ordered it. Also, I didn't want to have any more coffee if wanted to have any chance at sleeping at a decent hour. The Chai was great. It had a balanced flavor, and didn't taste artificial in any way. The soy milk served to lighten the body, but highlight the spice flavors even more.
On several visits to Alpha Beta Coffee Club, they've been very consistent with their service and preparation methods. I'm happy to recommend them as a place to get good coffee and relax, or as a place to get a bit of work done and get good coffee. The available food menu is also better than your average coffee cafe though, so there are definitely bonus points for this. Check out their website (https://abccoffee-roasters.com/) for more information or you can follow Alpha Beta Coffee Club on Instagram (you can follow me on Instagram too! @coffeeRyokou).