Have you heard about those mom and pop stores that are hidden in a neighborhood that everyone talks about? You know, it's like a secret neighborhood shop, they have amazing food, and are run by a little old grandpa and grandma who are super friendly? I believe that Good Eats by City Ice Cream and Coffee is like that, except this place just opened, and it's a young family running the place. It is the beginning of a new neighborhood landmark.
They are located in Miyoshi, Koto city, in Tokyo. It's a short 6 minute walk from Kiyosumi-Shirokawa station. They opened in 2021, and have already garnered many loyal patrons. For good reason; the food that comes out of here has got that amazing home-made quality that sends you back to when you're a kid and are craving some home cooked comfort food. It's like that one aunt you know that is practically a professional chef and makes the best food you remember growing up has opened up a store in your neighborhood.
In reality, this is not far from the truth, as the store is family run by Satoshi and Chiharu, one of the friendliest young couples you'll ever meet. They sharpened their cooking craft in the competitive New York scene, and came back to Tokyo to open their own little cafe. They both speak English and are happy to talk with you about their food. Although there are no tables, there are a few seats outside where you can enjoy your food. The neighborhood is super relaxed, so it felt quite quaint eating outside the shop. Of course, you can also take your food to go. It's carefully wrapped and will get home intact and ready to enjoy.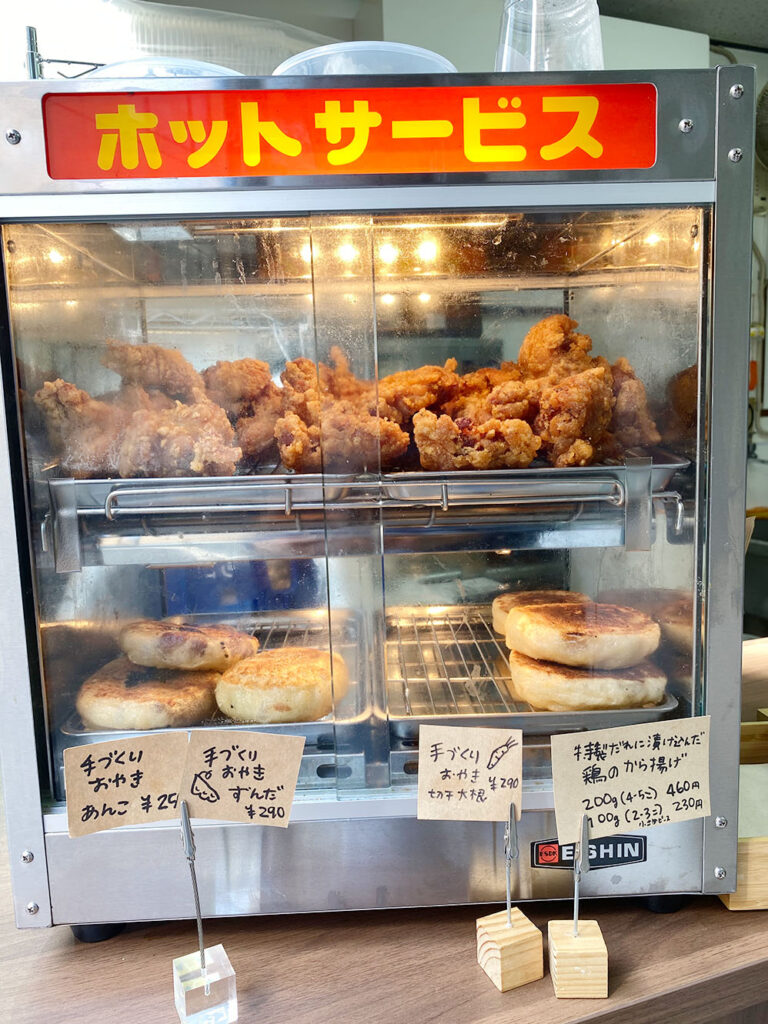 They offer a great variety of food, so there's something for everyone here. The menu has spam musubi, Okinawan pork and rice, Neapolitan-style spaghetti, and many others. They also serve desserts, and sweet drinks like boba tea (home made tapioca balls too!), and of course ice cream. I personally tried the Sloppy Joe sandwich, karaage, kinpa (korean style sushi), and ice creams. The menu occasionally changes also, so go often to try whatever new dish they cook up next.
The kinpa was hands down the best I've ever had. It was made simply with some bulgogi beef, namul, rice, and nori wrapper as expected. But the seasoning levels were perfect, and the rice texture was perfect. It's weird that the best kinpa comes out of a neighborhood shop, and not some Korean food stall, but so far, this is the best I've had. The karaage fried chicken was also flavorful and fried well.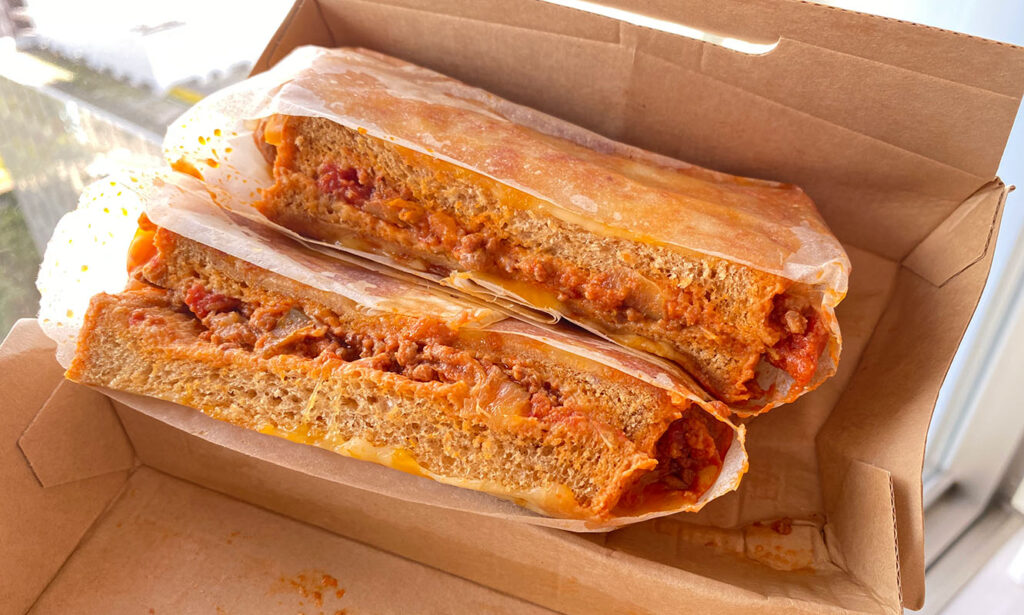 Sloppy Joe sandwiches were a food from my youth that is a comfort food for me. This one is different from the canned Sloppy Joe manwiches I used to eat. It had that home-made taste, had some real ingredients in it that you don't get from the can, and was mashed together in a way I never tried before that only a good chef would come up with, with the cheese on the outside of the sandwich. As expected of a Sloppy Joe sandwich, it was hard to eat as a hand-held sandwich; I put mine on a plate and ate it with a fork and knife. The best way to describe it was like eating an american styled lasagna bolognese, but with bread instead of pasta. It is much more delicious than that description though. American men around the world are rejoicing that this sandwich exists.
They also offer oyaki (おやき) which are little stuffed and fried dumplings. They make a specialized version of this from Chiharu's hometown, which is stuffed with zunda (ずんだ) or mashed up soybeans. It's lightly sweetened to make it a dessert, but they also offer savory versions. I'm not familiar with either of these foods so I can't really comment on them. I thought of them as hard skinned mochi. I would certainly like to try the other flavors they offer, like red azuki bean (あんこ) and veggie mixes.
I tried both the soft-serve and the french style ice creams, and the freshness and real flavors came through. The ice crystal size in the soft-serve was a medium consistency, which was nice, light, and refreshing. The french styled vanilla ice cream also had good fluffiness without being over-aerated, which helped make the creamy vanilla base taste light, but keeping that full flavor indicative of french based ice creams. Another great draw for this ice cream is that it's served in their home-made waffle bowl. These are the best waffle bowls I've had. They are light, crispy, and have just enough sweetness to give some flavor, but not to overwhelm the ice cream.
I encourage you to try Good Eats by City Ice Cream and Coffee. I'm pretty sure this is the beginning of a legendary neighborhood shop. You can learn more about them on their website and you can follow them on Instagram. You can follow me (@CoffeeRyokou) on Instagram too for the latest updates on my food and coffee trips.