I'm in a unique situation to review Grab and Go Goodies, because I've been visiting this place since they opened, and in a way since before they opened. To fully understand this, you have to know where Grab and Go Goodies came from. Taku, one of the brothers that started this little cafe, lived in Hawaii and worked at a famous cafe that served açai bowls, smoothies, and healthy sandwiches (think brown breads stuffed with alfalfa sprouts, and you'll have an idea). He wanted to bring this type of cafe to Japan. However, after experiencing another cafe that served "slow-food" (think the opposite of fast food chains – takes longer, but the food is healthier, real, and tastes homemade), he decided to go in this direction instead. Combine this experience with his older brother, Ryo's, experience of working at a yakiniku shop in Japan, and you have the combination that creates amazingly delicious foods at Grab and Go Goodies. I've eaten many times at the two cafes that inspired Grab and Go Goodies, and I can safely say that Taku and Ryo have equaled and even surpassed the originals in Honolulu.
Goodies is located a brief 12 minute walk from Oshiage Sky Tree (押上スカイトリー駅) station, and is nestled into an old building. It's very easy to miss if you're not on the lookout for it; it's a proper hole-in-the-wall with only 5 counter style seats inside the shop, and on sunny days, a small picnic table setup on the sidewalk that will seat 4 people. Upon approaching, you immediately feel like it's a cafe that belongs on the north shore of Oahu, in small-town Haleiwa. A music playlist of all the songs still popular in Hawaii are playing, and it's decorated with island-style decor and reclaimed woods. The restroom is covered with graffiti from many of patrons who have left their messages inside and outside the door. Guests are welcomed to leave their own mark with the markers left inside on top of the sink.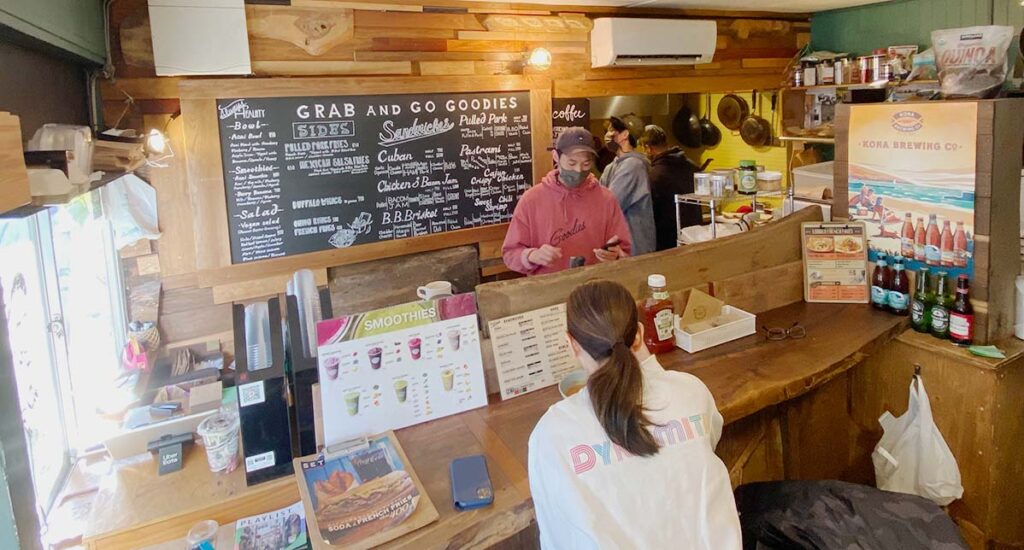 A blackboard and chalk menu common in hipster cafes dominates the back wall with interesting sounding offerings on the menu, as you try to imagine what delicious aromas match the interestingly named menu items. You'll find the amazing B.B. Brisket (beer-braised beef brisket), the Chicken Jam (chicken salad with bacon jam – I know sounds weird, but it's a perfect complement in this sandwich), and the Cuban (probably Tokyo's best cuban-style sandwich) along with many other items. They also have seasonal offerings, like açai bowls during the summer and warmer months, but they switch to amazingly delicious soups during the colder winter months.
In addition to the savory sandwich and soup offerings, you'll find smoothies (and açai bowls) on the menu. They also have great cold brew coffee too (水出しコーヒー). When they first opened, they offered cold pressed juices as well, but have since removed that from their evolving menu. A few of the staff speak English too, and they are all very friendly, so having a little chat with them is always fun.
I've literally eaten or drank everything on the menu, and I'm certainly not going to cover it all in this article, so I'll talk about my top 3 favorite menu items. That being said – everything I've eaten here is amazingly good. Seriously. It's hard to find a shop in Japan that offers such a diverse menu, and everything is good. How often do you see shops in Japan selling a single flavored tart or baked good? Izakayas often have ginormous menus, but usually only a few things on the menu are worth coming back for.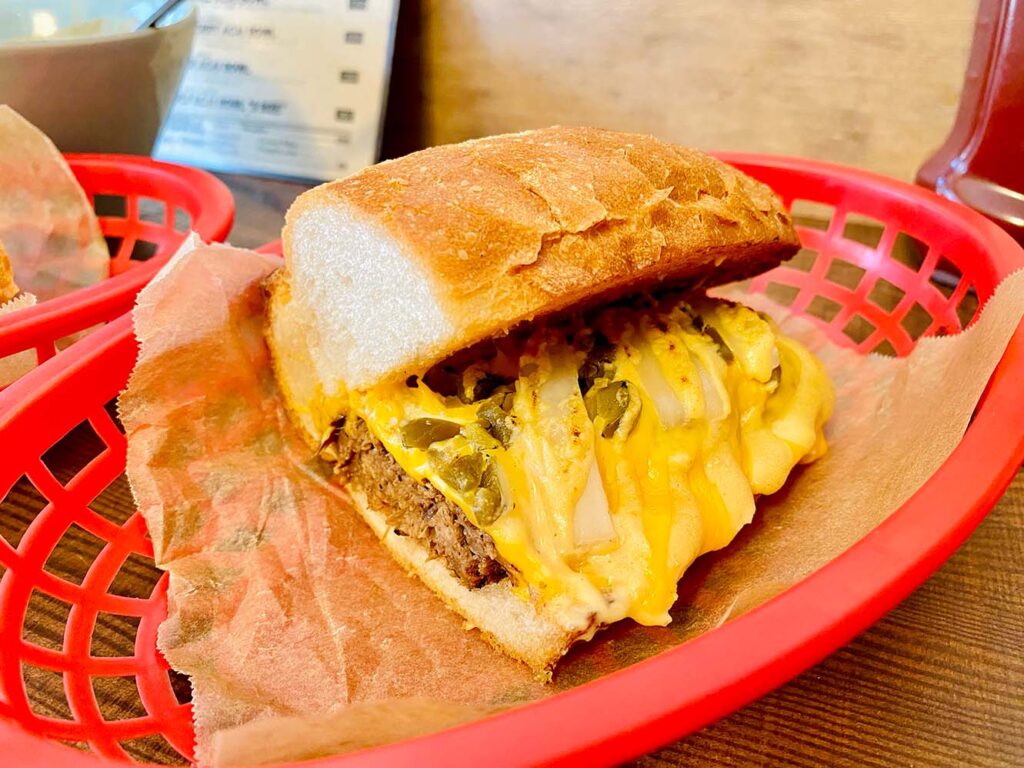 The B.B. Brisket is a flavorful beef sandwich that has been slow-cooked until it's falling apart tender. The combination of pickles and peppers in there is a great call-back to one of the sandwiches from EARL in Honolulu. It's missing the au jus dip that EARL serves with their sandwich, but the sauces Goodies uses make up for it. The crusty and toasted bread used for this sandwich holds all the ingredients in well, and balances out the meal to keep it surprisingly light but well on the filling side. The serving sizes at Grab and Go Goodies definitely lean towards Hawaii size servings, and not Japan size (bigger, not little servings).
The Chicken Jam is made with a lightly seasoned chicken salad, but the flavorful bacon jam that makes up the rest of this sandwich (oh and of course some veggies and sauces – but lets get back to the bacon jam…) is a mountain of flavor that checks off all the umami cravings you could want in a meal. The less glutenous style focaccia bread was a great stage for all the stars of flavor in this show stopping sandwich. But because they use freshly sourced bread, the breads sometimes rotate. Don't fret, every bread I've had matches well, and actually ups the experience of this great sandwich.
The last item I'll talk about in this article is the Cuban sandwich. They use house smoked ham and mojo-style pork for this sandwich, and it's pressed in a dry finer-tooth crumbly bread with a grill press. The delicious gouda cheese and house sauces (and the juicy ham, pork, and bacon jam) soak into the bread and everything just melds together to make this Japan's best Cuban style sandwich. I've said it – you're welcome to challenge this (recommend to me a place to try!), but I've had quite a few Cuban style sandwiches both in Japan and in the United States already, and all have paled in comparison to this offering from Grab and Go Goodies.
For now, I'll stop gushing over one of my favorite cafes in Japan. I do highly recommend this place though. They also have a smaller location appropriately named Little Goodies in Higashi Mukojima (東向島) that has sandwiches and other goodies (see what I did there?), but honestly, the sandwiches at the main location are better; the sandwiches at their sister store are refrigerated for convenience, so that is probably why they're different than the main store (SEE UPDATE BELOW! 2022-05-14). I can honestly say that if it weren't for this cafe (Grab and Go Goodies), I'd be missing Hawaii a lot more – this cafe checks off one of my required comfort food categories in Japan.
UPDATED 2022-05-14: Little Goodies has recently edited their menu. I can no give my enthusiastic recommendation for trying out their menu. If you'd like to jump straight to the review on Little Goodies, click here.
For more information, you can check out the Grab and Go Goodies website, or for even more update to date information, follow Grab and Go Goodies on Instagram.