I chanced upon Vortex Cafe as I was walking to find Davide Coffee Stop, which I had been meaning to try because a friend recommended them a while back. I saw Vortex Cafe, and stopped as I was walking. I saw that there was curry and hot dogs on the menu, and I thought it was odd that this was the second time today that I saw a coffee place have curry so prominently on their menu. In any case, I kept walking, making a silent note to myself that maybe I'd try them later, also, I noted that they have WiFi available. It turns out that Davide Coffee Stop was closed, even though Google Maps had marked them as open. Another reminder that Google Maps info isn't always correct. So I turned back to Vortex Cafe and went in.
It's again a relatively small shop with a low table near a small sofa, a couple of two-top tables, and counter seating for four people. It was empty. The decor of the shop felt like a travel guide booth from some small tropical island. There was a mishmash of woods, corrugated tin, and tin siding that gave it that feel. The books with travel destinations, and an oddly military themed trash can, with the smooth jazz quietly playing in the background gave the place a very eclectic but relaxing vibe. Not to mention the projector shooting some travel scenery on the wall. The guy behind the counter was all business, but polite. I ordered my Ethiopian Yirigachiffe as a drip coffee since the shop name is probably derived from the shape of the Hario V60 he was using to make the coffee. They roast their own beans in-house, and have been doing so since they opened 3 years ago.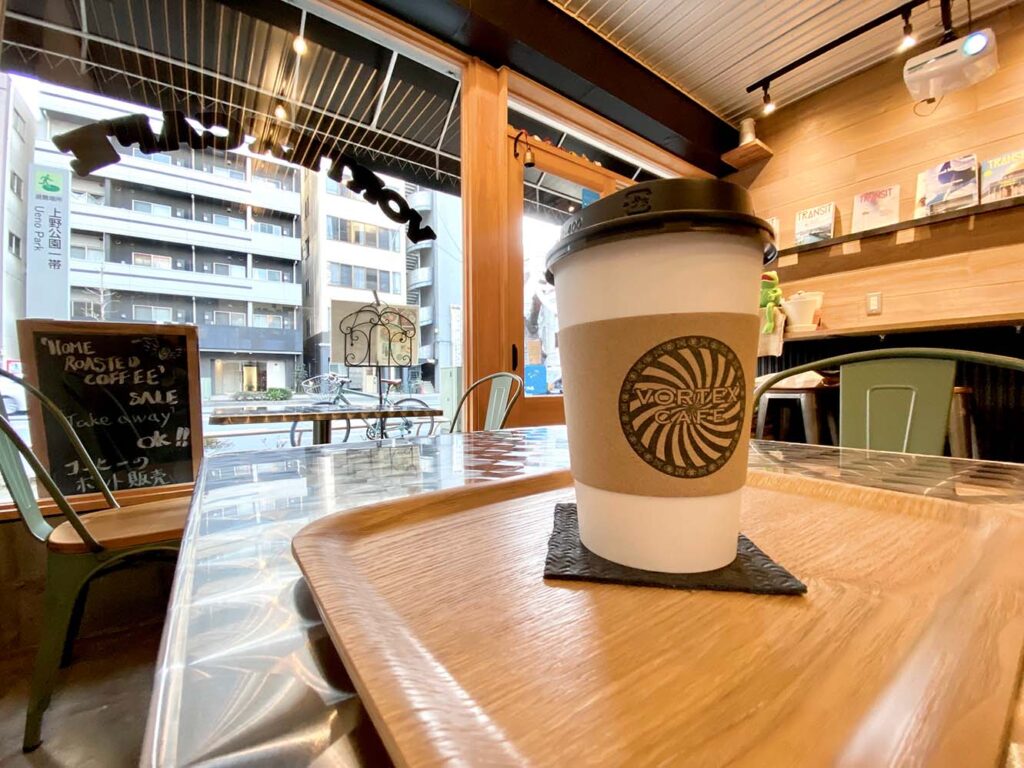 The coffee was a great medium roast, but was hiding much of the origin characteristics of the original bean. I didn't mind at all, as the cup had a great clean taste, and was a very straight forward coffee. It was nice to have an Ethiopia Yirgachiffe that wasn't trying too hard to bring out the fruitiness that roasters often try to highlight from this type of bean.
I also had a hot milk tea, since I was overdoing the caffeine. The milk in this drink was definitely too hot to drink, and probably had most of the milk's natural sweetness steamed away. Milk has some natural sugars in it, and the temperature range for optimal range for highlighting the sweetness is between 120º-140º F (50º to 60º C). Anything hotter, and the sugars begin to break down, and you lose the sweetness from the milk. Oh well – seems like a day for over-steamed milk (see my review of Eight Coffee that I visited earlier on the same day).
All in all, Vortex Cafe was pretty relaxed, and seems to be a good place to get a table to get some work done. They have good drip coffee, WiFi, a clean bathroom, and seating space to set a laptop down. Check them out on their Facebook page, or visit them since they are a nice 8 minute walk from Iriya station in Taito.